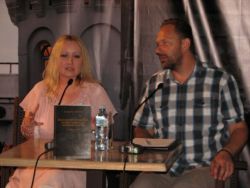 Promocija naučne publikacije dr Katarine Mitrović Benediktinci na područjku Barske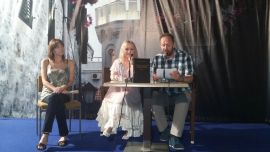 nadbiskupije i Kotorske biskupije ( 9. stoljeće - 1571) održana je 26. jula 2016. godine na Belavisti u Herceg Novom u okviru 14. Međunarodnog sajma Trg od knjige. O knjizi su govorili dr Vasilij Jovović i autorka.
Vasilj Jovović je istakao:
Monografija dr Katarine Mitrović predstavlja značajan doprinos proučavanju problematike benediktinaca na području Barkse nadbiskupije i Kotorske biskupije, jer je njome prvi put na sveobuhvatan način obrađena istorija ovog monaškog reda na navedenom području, čime je značajno unapređeno poznavanje istorije hrišćanske crkve u srednjovjekovnom periodu. U našoj istoriografiji do danas nije naučno opservirana ova tema iako predstavlja izuzetno važan segment istorije hrišćanstva zapadnog Balkana. Istorija benediktinskog reda na području Barske nadbiskupije i Kotorske episkopije je tek ovom monografijom metodološki i istoriografski sveobuhvatno obrađena.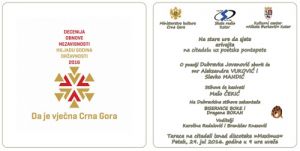 Promocija knjige PONTAPETI pjesnikinje Dubravke Jovanović održaće se u petak 29.07.2016. na terasi kotorske Citadele. O poeziji Dubravke Jovanović govoriće mr Aleksandra Vuković i Slavko Mandić. U muzičkom dijelu programa nastupaju klapa Bisernice Boke i Dragana Bokan. Voditelji programa su Branislav Knezović i Karolina Radulović.
Početak je u 21 sat.
Organizatori su JU Kulturni centar Nikola Đurković Kotor i Skala radio, uz podršku Ministarstva kulture Crne Gore.
Izdavanje zbirke poezije kotorske pjesnikinje Dubravke Jovanović je sufinansiralo Ministarstvo kulture Crne Gore / Direktorat za kulturnu baštinu. Na ovaj način Kulturni centar Nikola Đurković Kotor, uz podršku Ministarstva kulture Crne Gore / Direktorata za kulturnu baštinu, aktivno učestvuje u čuvanju, istraživanju i promociji kulturne baštine Boke i Crne Gore.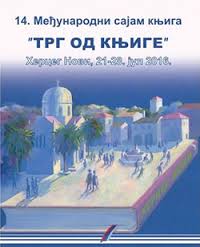 Promocija naučne publikacije dr Katarine Mitrović Benediktinci na područjku Barske nadbiskupije i Kotorske biskupije ( 9. stoljeće - 1571) održaće se 26. jula 2016. godine oko 21.45 h na Belavisti u Herceg Novom u okviru 14. Međunarodnog sajma Trg od knjige. O knjizi će govoriti dr Vasilij Jovović i autorka.
Publikacija je realizovana u sklopu projekta Kulturna baština Boke i Crne Gore - evropska kulturna baština koji je finansiralo Ministarstvo kulture Crne Gore u okviru Programa zaštite i očuvanja kulturnih dobara Ministarstva kulture Crne Gore / Direktorata za kulturnu baštinu za 2015. godinu.
Strana 1 od 87
Izdvajamo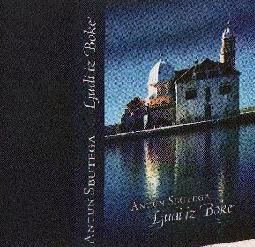 Ljudi iz Boke 
Antun Sbutega
"Ljudi Boke", naziv je knjige koja je u petak promovirana u crkvi Svetog Nikole na Prčanju, autora prof.dr. Antuna Sbutege, u organizaciji Ekumenskog centra "Don Branko Sbutega" i Pomorskog muzeja Crne Gore Kotor.
Knjigu su predstavili ravnateljica muzeja mr. Mileva Pejaković Vujošević i prof.dr. Milenko Pasinović koji je tom prilikom podsjetio "čitajući knjigu mnogi će se zapitati da li je Kotor i na koji način obilježio imena ličnosti o kojima je riječ. Mnogi će prepoznati duh ekumenizma vjekovima prisutan u Boki. Knjigom nas je autor podstakao na razmišljanje koliko i kako se odnosimo prema nasljeđu koje su nam ostavili preci, koje baštinimo ali ga ne svojatamo, koje je 65 % materijalnih kulturnih dobara Crne Gore, koje svojim vrijednostima vraća Crnu Goru u EUropu, ali i od Crne Gore traži više brige za njegovu zaštitiu u organizacionom, funkcionalnom i finansijskom smislu".
Kniga ima 364 stranice, sa preko 300 fotografija koje je uradio mr Stevan Koridić, u knjizi su opisane ličnosti iz različitih epoha, koje su pripadale različitim etničkim i socijalnim grupama kazala je mr.Mileva Pejaković Vujošević.
O knjizi je govorio i autor, koji je kazao kako je knjiga zbirka priča o životnim povjestima ljudi iz Boke koje je upoznao iz knjiga, priča, požutjelih dokumenata u arhivima, sa starih portreta u muzejima i crkvama a neke je čak i lično poznavao. Izbor ličnosti je arbitriran, jer u tijeku više od dvije ipo tisuće godina povijesti zaljeva u njemu je živilo jako puno ljudi, od kojih su mnogi ostavili tragove dovoljne da njihova životna priča bude ispričana, tako da je i sam bio u problemu jer je bilo previše osoba čije priče su se nametale svojom zanimljivošću, dramatičnošću a koje su morale biti eliminirane kako knjiga nebi bila preopširna.
Predstavljajući svoje djelo prof.dr. Antun Sbutega govoreći o ljudima koje je opisao u svojoj knjizi citirao jednog grčkog mislioca koji je kazao " Vi nijeste živjeli običnim životom, vi ste živjeli na čudo potomstvu", zato "sam se potrudio da da ove priče ljudi iz Boke smjestim u odgovarajući povjesni, politički, kulturni, vjerski i socijalni kontekst" kazao je Sbutega.
Nakladnici knjige su Ekumenski centar "Don Branko Sbutega" i Pomorski muzej Crne Gore.
Župnik Prčanja don Ivo Ćorić predstavljajući ekumenski centar "Don Branko Sbutega" koji je u sklopu Franjevačkog samostana kao i crkva Svetog Nikole, istakao je kako će ekumenski centar afirmirati suradnju, zajednički suživot, ravnopravani dijalog među pripadnicima različitih konfesija te bogatstvo različitosti koji se oduvjek njegovao u Boki kotorskoj.
"Centar je otvoren za sve predstavnike vjerskih zajednica, predstavnike politike, privrede, kulture i društva, koji žele neposredno preuzeti dio odgovornosti za pitanje religijskih sloboda, kooperativnu konstruktivnu pozitivnu interakciju između različitih religijskig tradicija individualno i institucionalno" kazao je Ćorić.
Radio Dux
Opširnije...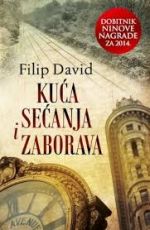 Kuća sjećanja i zaborava
David Filip
Dobitnik Ninove nagrade za 2014. godinu.

Svako ponekad poželi da bude neko drugi, ali šta ako dobije priliku za to? 

Albert Vajs je još od detinjstva imao prilike da promeni svoj identitet. Nakon što je 1942. godine pod okriljem užasnog rata ostao bez roditelja i brata Elijaha, neko vreme je proveo u kući folksdojčera koji ga nazivaju Hans i nude mu da zameni njihovog nestalog sina i tako se spase od sigurne smrti. Albert se tada ipak odlučuje da sačuva svoj identitet i pobegne iz nemačke porodice koja ga je umalo usvojila.

Mnogo godina kasnije, na jednoj od konferencija o Drugom svetskom ratu na kojima učestvuje, Vajs lutajući noću njujorškim ulicama nailazi na "Kuću sećanja i zaborava". U jednoj od prostorija ovog neobičnog zdanja pohranjeno je nepregledno istorijsko pamćenje. Albert u jednom ekranu može da kao na filmu vidi scene stradanja svojih roditelja i Elijahovog nestanka za koji se oseća krivim, jer je mlađi brat bio poveren njemu na čuvanje. Ogromni bol koji je osetio jače no ikad može da nestane ako on u sledećoj prostoriji ove čudesne kuće izbriše sopstveno pamćenje ili, čak, iščezne poput svog rođaka, čuvenog iluzioniste Hudinija (Erika Vajsa). Hoće li Albert iskoristiti poslednju šansu da promeni svoj identitet u skladu sa rečima jednog svog prijatelja i sunarodnika "Pamćenje je strašnije od svakog zaborava" ili će odlučiti da ostane to što jeste, bez obzira na bol koji ga razdire?

Pisana u prepoznatljivom stilu uglednog autora, Kuća sećanja i zaborava je jedan od najautentičnijih romana novije srpske književnosti.
http://www.laguna.rs/n2618_knjiga_kuca_secanja_i_zaborava_laguna.html
Opširnije...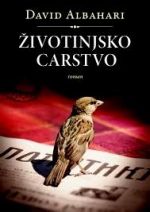 Životinjsko carstvo
David Albahari
"Priču Životinjskog carstva pripoveda izuzetno nepouzdani pripovedač, čovek koji je krajem šezdesetih učestvovao u beogradskim studentskim demonstracijama, a onda, par godina kasnije, tokom odsluženja vojnog roka u Banjoj Luci, kako sam ističe, postao pion u sadističkoj igri mačke i miša sa tragičnim ishodom. Četiri decenije kasnije, pripovedač ispisuje stranice svog rukopisa kako bi opravdao zločin koje je upravo počinio – ubistvo enigmatičnog Dimitrija Donkića, čoveka koji je nekada davno u banjalučkoj kasarni inicirao splet tragičnih događaja. Albahari bira pseudo-dokumentarnu tehniku pronađenog rukopisa (zapisi glavnog junaka su završili u kanti za otpatke – što čitavoj priči daje dodatni sloj misterije) i eksperimentisanje sa formom. Na glavni deo romana, uvod i centralnu priču, otpada 100 stranica, ali se na kraju knjige, na dodatnih 25 stranica, nalaze beleške – njih četrdesetak. One Životinjskom carstvu daju dubinu i neodvojivi su deo priče – bez njih bi roman definitivno izgubio na svojoj reljefnosti. Životinjsko carstvo nije triler u užem shvatanju tog termina, ali svakako jeste Albaharijev pokušaj da, na svoj način, koketira sa žanrom – njegovo narativno tkanje sadrži neporecivu napetost i, kako priča odmiče, sve prisutniju jezu (razrešenje je, videćete, posebno zastrašujuće). Svi oni koji su bili na odsluženju vojnog roka sećaju se teskobe vojničkih dana, a ako se tome dodaju doza komunističke paranoje i stalna pretnja fizičkim i psihičkim nasiljem, dobijamo eksplozivnu narativnu smešu koju Albahari spretno modelira. Roman jeste kratak, čak na samoj granici novele, ali u ovom konkretnom slučaju to je prednost, a ne mana. Izbrušivši kratku formu do savršenstva, Albahari dokazuje da je ponekad manje zapravo više. Životinjsko carstvo svojim čitaocima ne nudi odgovore, bar ne one konačne, ali nedorečenost i nezaokruženost samo još više raspaljuju maštu čitalaca i teraju ih na razmišljanje. Šta se zaista dogodilo? Da li pripovedač obmanjuje sebe i/ili nas? Ko je zaista Dimitrije Donkić? To su sve pitanja na koja ne dobijamo servirane odgovore. Albaharijeva proza, neosporno, zahteva udubljivanje i nije za površne – što je istovremeno i upozorenje i preporuka, sve u zavisnosti od vaših književnih afiniteta."
http://citymagazine.rs/clanak/prikaz-knjige-david-albahari-zivotinjsko-carstvo
Opširnije...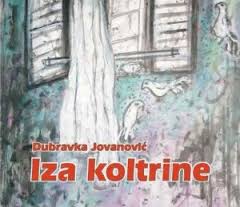 Iza koltrine
Dubravka Jovanović
"Poezija Dubravke Jovanović jednako aktivira čitaočevo čulo sluha i vida. Tamo se dvije bure otimaju o glasniji urnebes, morska i karnevalska. Sve se u toj poeziji čuje, sve se vidi, ali ne direktno nego kao nagovještaj koji je kao  pokislo zvono kad puža budi. Kod Dubravke svaka naracija se brzo pretoči u diskreciju." (Novak Kilibarda)
"Onaj ko pomisli da ova poezija, zbog tipičnog lokalnog kolorita, mora ostati samo u uskim kotorskim okvirima, između Vrmca i Lovćena, vara se. Dundo Maroje, dubrovačka renesansna komedija, satkana je od jezika karakterističnog za jedno usko područje, godinama je bila jedna od najgledanijih pozorišnih predstava i u Beogradu. Nečista krv koja diše Vranjem i njegovim govorom je gotovo devet decenija na širokoj književnoj sceni.
Dubravka Š. Jovanović je onima koji je osjećaju i umeju da žive podarila dragocenu zbirku pesama..." (prof. Jelena Nedeljković)
Opširnije...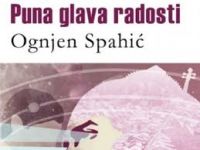 Puna glava radosti
Ognjen Spahić
"…Blijedi odsjaji screensavera obasjavali su prazni zid. Zidove moje lobanje ispunjavala je praznina tako da sam istog časa, nakon kratke misli o praznini, čvrsto sklopio oči i pokušao razmišljati upravo o tom stanju kao nečemu što bi trebalo da proizvede emocije prijatnosti, umirenja ili, na koncu, ravnodušnost. Odsustvo slike, tona, mirisa, ukusa, odsustvo svjetla, tame ili bilo kakvih čulnih asocijacija koje bi mogle dozvati realne slike ili predviđanja zarobljena lavirintom davno konzumiranih misli: sve to je bila prekrasna, istog časa abortirana ideja-mrtvorođenče, nakon koje sam naglo otvorio oči i tiho opsovao nekoliko puta, misleći na doktora, na njegovu sobu, na pedeset eura koje ću ostaviti usrdno se rukujući sa džukelom, misleći na preostalih dvadeset sa kojima ću morati da naručujem smrdljivo točeno pivo umjesto viskija…"
http://www.vijesti.me/kultura/ognjen-spahic-puna-glava-radosti-mapi-svijeta-clanak-187231
Opširnije...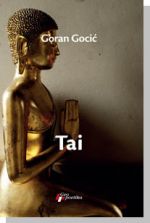 Tai
Goran Gocić
Knjiga koju određuje njen topos: Tajland, Ljubav i Tajland. Žena, putenost, demistifikacija glavnog junaka. Analiza Dalekog istoka u odnosu na (Daleki) zapad. 
Da nije roman, ovo bi bila "studija o izvodljivosti" na temu kako bi jedan samosvjestan muškarac mogao ili pre – želio da (hrišćanski) zaštiti jednu ženu. Projekat koji je u datim uslovima osuđen na propast: ne zato što nije ostvariv već zato što nije potreban. Ta naizgled krhka žena samim svojim "pasivnim" postojanjem, prisustvom, (budističkim) odbijanjem u prihvatanju, doprinijeće samourušavanju ovog s početka knjige prividno mačo muškarca, koji će se u zapanjujuće poštenoj samoanalizi pretvoriti u jedno ranjivo biće. Toliko ranjivo da će njemu biti neophodan Sveti Hristifor, zaštitnik putnika.
Struktura romana građena je i jednostavno i komplikovano. Rezultat je vrlo koristan po knjigu: težina preteže u razumljivost, kao što drugi lik knjige, junakova senka, nadopuna, kontrast ili čak alter ego, idealno nadopunjuje ovog gosta u drugoj kulturi. Tako i Bilješke s kraja teksta nadograđuju beletristiku, to jest Lijepu umjetnost.
Tai je lekcija samoljubivom Zapadnjaku o tome kako da izliječi svoj oholi ego podatnošću Istočnjaka. No, nema tu pobjednika. Možda samo poraženog. Ali i tada – "zaliečenog" Carstvom Praznine. A ona je ženskog roda.
Vladislav Bajac
Opširnije...
Psihijatri, psiholozi i drugi bolesnici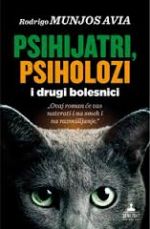 Psihijatri, psiholozi i drugi bolesnici
Rodrigo Munjosavia
Ovo je prvo djelo Rodriga Munjos Avie koje je prevedeno na srpski jezik. Riječ je o inteligentnoj komediji koja, iza priče o neobičnom junaku koji se bori sa tragikomičnim problemima, prvenstveno na polju svog psihičkog zdravlja, zapravo predstavlja zanimljivu kontemplaciju na temu čovjeka u savremenom svijetu i, iznad svega, potragu za smislom života. Radnja je smještena u poznatu četvrt Madrida, a roman je prepun urnebesno smješnih likova, situacija i događaja. Autor izuzetno duhovito i neuvijeno karikira akademsku analizu, psihijatre i psihologe, ostavljajući otvoreno pitanje u kojoj meri se može uspješno analizirati nešto tako apstraktno kao što je ljudski um. Ovaj roman je blagonakloni podsjetnik na delikatnost ovih profesija, a u isto vrijeme uzdiže vrijednosti porodičnog života, ljubavi, podrške zajedništva. On šalje poruku da, uz sve komplikovane prepreke koje u životu moramo svladati, treba ići napred s vjerom u sebe i smijehom kao najboljom terapijom. 

Roman Psihijatri, psiholozi i drugi bolesnici doživjeo u je Španiji brojna izdanja, a po romanu je 2009. godine snimljen film u režiji Pedra Telećeje.

"Ovaj roman će vas natjerati i na smijeh i na razmišljanje." Rodrigo Munjos Avia
Opširnije...
Južno od granice zapadno od Sunca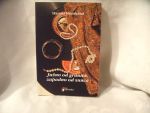 Južno od granice, zapadno od Sunca
Haruki Murakami
Kad prođe izvjesno vrijeme neke se stvari ščvrsnu. Kao cement u kofi. A kada se to desi više nema natrag – više ništa ne možemo da promjenimo. (Šimamoto, 12 godina)
Pjesmu Neta Kinga Kola, Južno od granice (South of the Border), često zajedno sluša dvoje zaljubljenih tinejdžera, uživajući u nepovratnoj idili djetinjstva. Nakon dugog perioda razdvojenosti, putevi im se opet ukrštaju i njihova nekada nevina ljubav ponovo se budi, ovog puta kao razarajuća želja.
Opširnije...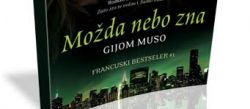 Gijom Muso
Možda nebo zna
Očaravajuća priča prepuna magije, napetosti i ljubavi. Najteže od svega nije pronaći ljubav, već sačuvati je... Žilijet i Sem nije trebalo da se sretnu. A kamoli da se zaljube jedno u drugo. Jedne zimske večeri u samom srcu Brodveja, lepa Francuskinja Žilijet susreće Sema, mladog pedijatra iz Njujorka. Plašeći se da će ga razočarati, ona mu prećutkuje da se bavi raznim neobičnim poslovima dok se zanosi snovima da će jednog dana postati slavna glumica. S druge strane, iz straha da će se vezati za nju, Sem se pretvara da je oženjen, iako je njegova žena nedavno umrla. Uprkos obostranim lažima, oni će se zaljubiti i provesti strastven, nezaboravan vikend. Ipak, Žilijet mora da se vrati u Pariz, a Sem odlazi za njom na aerodrom, kako bi je sprečio da ode. U tom presudnom trenutku, kada je sudbina mogla da se promjeni, on ne umije da pronađe prave riječi da je zadrži pored sebe. Tek što je Žilijetin avion uzletio, eksplozija odjeknu nebom. Sem je očajan, jer je još jednom ostao bez voljene žene. Ali, on ne zna da njihova priča ni izbliza nije završena.
Opširnije...
Anketa
Jeste li zadovoljni uslugama i radom biblioteke?

...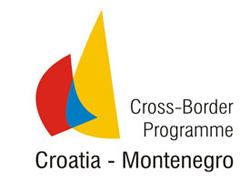 Lingvistički kutak
Kutak za djecu
Za članove
Brojač posjeta